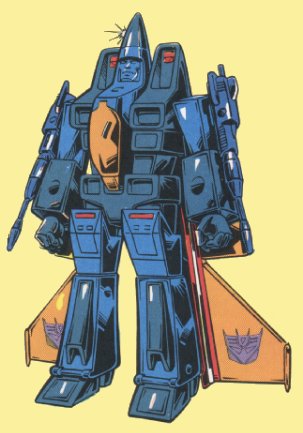 Gruppe: Bedrager.
Funktion: Kriger.
"En bange robot er en dårlig robot."
Profil: Lyden af Dirges motorer udløser altid frygt hos Autoboterne, og det er noget, Dirge udnytter overfor sine fjender. Erfaringen har vist ham, at frygt kan lamme de stærkeste militære enheder. Han behandler frygten med samme indlevelse, som en pianist kærtegner sine tangenter. Selv hans kolleger indenfor Bedragerne er bange for ham. Som Ramjet siger: "Han giver mig kuldegysninger!"
Egenskaber: Som jetjagtfly afgiver Dirges turbinemotorer en lyd, som angriber Autoboternes nervecentre. (Primærkredsløbene får et elchock!) Ofret bliver desorienteret og opskræmt, og et lydangreb fra Dirge kan give varige mén. Det gælder om at holde sig udenfor hørvidde. Desuden er han udstyret med to raketter og dobbelte laserkanoner.
Svagheder: For at opretholde sit ry som en tapper soldat, må Dirge have kontrol over situationen hele tiden. Hvis han slækker på opmærksomheden, kan han ikke udnytte sin evne til at skræmme modstanderne. Dette er sket flere gange, og han har været tæt på at blive tilintetgjort.
Stammer fra: Transformers nr. 3/1989.