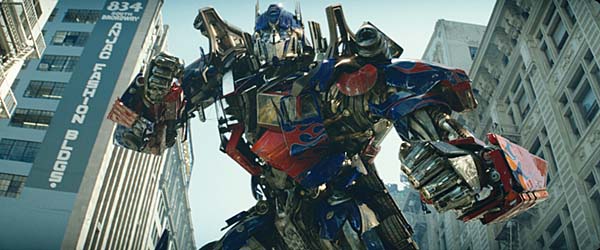 Transformers returns to the big screen in the summer of 2007!
21 years after the first, animated Transformers film, our favourite robots storm the big screen again. A live-action Transformers film is currently in production, directed by Michael Bay. It is set to open on July 4, 2007 in most countries, including the Nordic countries.
Characters
The storyline of the new film will not be based on the original Generation 1 series, but will feature many of the original characters. There will be a small core group of Transformers, five Autobots and eight Decepticons. The official list was revealed in an online live chat and webcast with scriptwriters Alex Kurtzman & Roberto Orci on August 18, 2006, and includes these characters:
Autobots




Bumblebee

Optimus Prime (semi truck)
Bumblebee (Chevrolet Camaro)
Jazz (modified Pontiac Solstice sports car)
Ironhide (modified GMC Topkick 6500 pickup truck)
Ratchet (modified Hummer H2 rescue vehicle)



Decepticons


Barricade, evil police car

Megatron (Cybertronian airplane)
Starscream (Lockheed Martin F-22 Raptor stealth fighter)
Barricade (Saleen S281 Mustang police car)
Blackout (Sikorsky MH53 Pave Low III helicopter)
Brawl (modified M1 Abrams tank with two turrets)
Bonecrusher (military mine clearing vehicle)
Frenzy (tapedeck)
Scorponok (large mechanical scorpion)
Arcee was originally announced to be included among the cast, but has since been cut for story purposes, according to producer Don Murphy. Frenzy has developed from the character called Soundwave or Soundbyte in the early scripts, and transforms from a tapedeck to a 120 cm tall (short) robot.
Actors

Mikaela Banes and Sam Witwicky
Nine voice actors for the roles of the Transformers have been revealed so far. Two of them have played Transformers before: Peter Cullen, who reprises his role as Optimus Prime, and Charles Adler, who's new in the role of Starscream (he has previously portrayed G1 Silverbolt and G1 Triggerhappy). Producer Don Murphy stated early on that he wanted to audition other voice actors from the original cartoon as well, but it seems no others made the cut.
Frank Welker (G1 Megatron) has been cast to do Megatron in the console games based on the film, but didn't qualify for the film itself. Instead, Megatron is voiced by Hugo Weaving, better known as Agent Smith in the Matrix trilogy and Elrond in the Lord of the Rings trilogy.
Among the human roles, we find Shia LeBouef playing Sam Witwicky, Megan Fox as his girlfriend Mikaela Banes, and Kevin Dunn as his father Ron Witwicky. Some big-name actors in the film are Jon Voight who plays Secretary of State John Keller, Josh Duhamel who is Captain Lennox and John Turturro who portrays Sector 7 Agent Simmons.

Michael Bay instructs extras while filming at the Holloman Air Force Base
Production
The film is a joint production between DreamWorks SKG, Paramount Pictures, and Hasbro Inc. It is directed by Michael Bay, and produced by Don Murphy, Tom DeSanto, and Leonardo di Bonaventura. Steven Spielberg is executive producer. Industrial Light & Magic (ILM) will be doing the CGI effects.
Principal photography started on May 22, 2006. The first scenes were filmed at Holloman Air Force Base in New Mexico, and at the Hoover Dam.

---
This page was created by Lars Eriksson, groundsplitter@ntfa.net.
The last revision was made on Monday, June 18, 2007