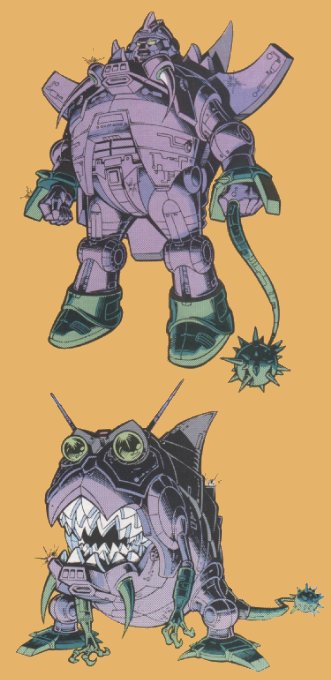 GRUPP: QUINTESSON
FUNKTION: AVRÄTTNINGAR
FÖRSTA FRAMTRÄDANDE: THE TRANSFORMERS: THE MOVIE # 2
"Allt är byten."
Typ: Sharkticons är massiva, runda, kraftfullt byggda, och otroligt obegåvade - de perfekta mördarmaskinerna och sålunda det ideala maktmedlet att utföra Quintessons domslut. Sharkticons käkar och tänder är så kraftfulla och starka att de kan bita av ett sex tum tjockt titanstålspö på 0,023 sekunder. Deras spikförsedda svans kan krossa det tyngsta pansar. Men den verkliga anledningen till deras oövervinnelighet ligger i deras överväldigande antal. Precis som pirayor anfaller de sitt byte i grupp och är totalt omedvetna om de förluster målet tillfogar dem. De känner bara till en sak, och det är hur man förstör. Den funktionen utför de perfekt
Svagheter: På grund av deras så begränsade intelligens utsätts de för skrämmande förluster innan de ens uppfattar det. Detta är inget större problem så länge de möter en enda rival, men mot en kraftfull styrka blir deras destruktiva egenskaper kraftigt demolerade.