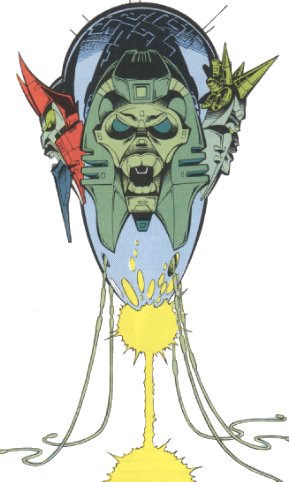 GRUPPTILLHÖRIGET: UNICRON
UNDERGRUPP: QUINTESSONER
FUNKTION: GENOMDRIVARE
FÖRSTA FRAMTRÄDANDE: THE TRANSFORMERS: THE MOVIE # 2
"Alla är skyldiga tills motsatsen har bevisats - och då är de fortfarande skyldiga!"
Karaktär: Lika grymma som en vessla som leker med sitt byte, och lika ihärdiga som en blodhund som spårar en rymling, så är Quintessonerna de som utan nåd genomför Unicrons önskningar. De jagar ifatt de som försöker fly undan Unicrons vrede. När offret väl är fångat så blir han dömd. Skyldig eller oskyldig spelar ingen roll. Domen är alltid densamma - döden.
Quintessonerna består av vakter, portvakter, och en domare med fem ansikten, Quintessonerna är de grymma härskarna över ändlösa legioner av Sharkticoner, som verkställer Quintessonernas domar.
Svagheter: Quintessonerna är fåtaliga jämfört med Sharkticonerna, och de är dödligt rädda för dem. Skulle Sharkticonerna göra uppror finns det ingenting Quintessonerna skulle kunna göra för att stoppa dem.