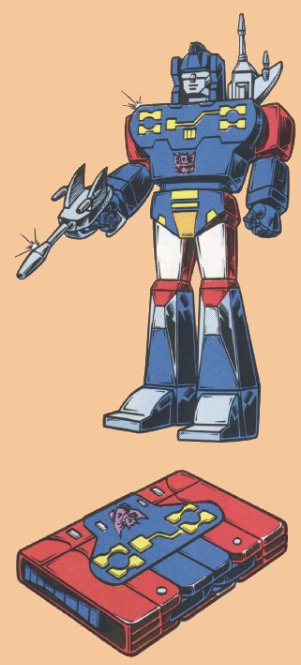 ALLEGIANCE: DECEPTICON
FUNCTION: DEMOLITIONS
FIRST APPEARANCE: TRANSFORMERS # 1
"Destroy what's below and what's above will follow."
Profile: Rumble is your basic street punk. He compensates for his small size by always acting tough. And he is tough. Cross him and he'll punch your optic sensors out. He has a quick temper and a mean disposition. The other Decepticons try to keep their distance. Yet, this unpleasant, swaggering little hoodlum is one of Megatron's favorites. Rumble follows orders blindly and hungrily; he always waits impatiently for Megatron's next assignment. A good time for Rumble is shaking a building into a heap of rubble. "I love the sight of crumbling bricks," he says.
Abilities: Rumble can roll the drum-like constructions in his body to transmit through his feet intense low-frequency groundwaves that have the effect of stimulating earthquakes. His quakes have registered as high as 5.4 on the Richter Scale.
Weaknesses: Rumble's small size severely limits his strength; he can be easily beaten by most of the Autobots in any sort of physical struggle or artillery barrage. Given his power of causing the ground to shatter, however, the trick is to get close enough to Rumble to fight him.