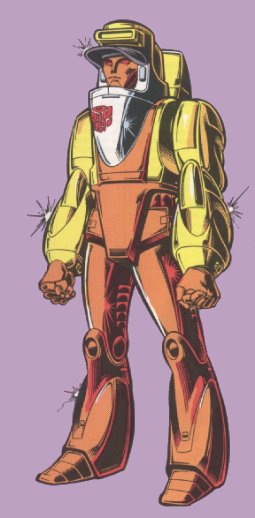 GRUPP: AUTOBOTERNA
FUNKTION: ÖVERLEVARE
FÖRSTA FRAMTRÄDANDE: THE TRANSFORMERS: THE MOVIE # 3
"Endast de vilda ska leva."
Typ: Wheelie är den vilda pojken på planeten Quintesson - en Autobotliknande yngling vilsekommen när hans skepp störtade, den enda överlevande av hans patrull, som hållit sig vid liv med hjälp av list och oförfärat smygande. Han talar i udda rimmande meningar och avskyr Sharkticonerna och Quintessonerna som är hans dödsfiender. Han är en trofast vän till Dinoboterna som omedelbart blev förtjusta i honom och en pålitlig allierad till Hot Rod och Kup när de tar sig an Sharkticonerna.
Egenskaper: Han slåss endast när han är attackerad och måste försvara sig. Han använder en trebladig kniv och en slangbella som han skjuter iväg eldstenar med när han måste gå till attack eller försvara sig.