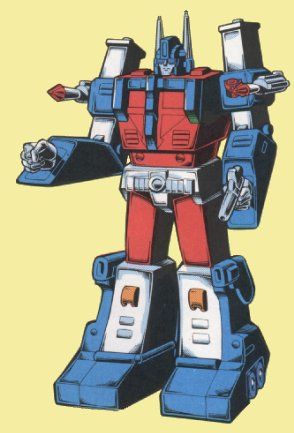 GRUPP: AUTOBOTERNA
FUNKTION: STADSKOMMENDÖR
FÖRSTA FRAMTRÄDANDE: THE TRANSFORMERS: THE MOVIE # 1
"Fasthet är seger."
Typ: Ultra Magnus är en krigare rakt igenom. Han trivs bäst när han utför Optimus Primes order, och kan visa upp hela sin magnifika skicklighet i strid, mod och gåvan att improvisera på slagfältet. Och han känner sig obekväm när ledarskapets mantel läggs på hans breda axlar. Han ser sig själv som en följeslagare, inte en befälhavare, och är motsträvig att anta befälet tills det är klart att han inte har något annat val än att leda. Och när han slutligen leder är han resolut, rättvis och oklanderligt modig. Han är alltid redo att offra sig själv för sina vänner och uppdraget, och är frikostig i sina förberedelser så att hans "följe" är så skyddat som möjligt.
Egenskaper: Ultra Magnus bär raketramper kapabla att träffa mål fem mil bort.