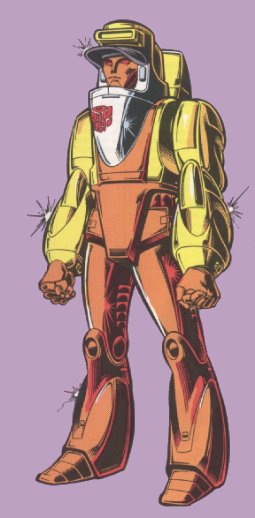 ALLEGIANCE: AUTOBOT
FUNCTION: SURVIVALIST
FIRST APPEARANCE: THE TRANSFORMERS: THE MOVIE # 3
"Only the fierce shall live."
Profile: Wheelie is the "wild boy" of Quintesson - an Autobot-like youth lost when his ship went down, the only survivor of his party, staying alive by cunning and stealth and fearlessness. He speaks in odd, rhyming sentences and despises the Sharkticons and Quintessons, who are his mortal enemies. He is a staunch friend to the Dinobots, who take to him immediately, and a reliable ally in difficulties for Hot Rod and Kup when they take on the Sharkticons.
Abilities: He fights only when he's under attack and has to defend himself. He uses a three-bladed knife and a sling which hurls fire stones when he must attack his enemies or defend himself.