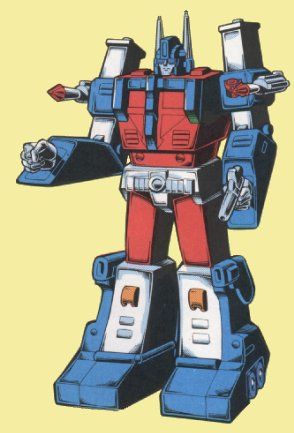 ALLEGIANCE: AUTOBOT
FUNCTION: CITY COMMANDER
FIRST APPEARANCE: THE TRANSFORMERS: THE MOVIE # 1
"Consistency is victory."
Profile: Ultra Magnus is all soldier. He is most comfortable when he is carrying out Optimus Prime's orders - giving it all of his magnificent fighting skills, courage and gift for battlefield improvisation. And he is uncomfortable when the mantle of leadership is placed over his broad shoulders. He sees himself as a follower, not a commander, and is reluctant to assume authority until it is clear that he has no choice but to lead. And when he does finally lead, he is resolute, fair and courageous beyond reproach. He is ever-ready to sacrifice himself for the good of his companions and mission, and unstinting in his preparedness so that his "people" will be as protected as possible.
Abilities: Ultra Magnus carries missile launchers capable of hitting a target 30 miles away.