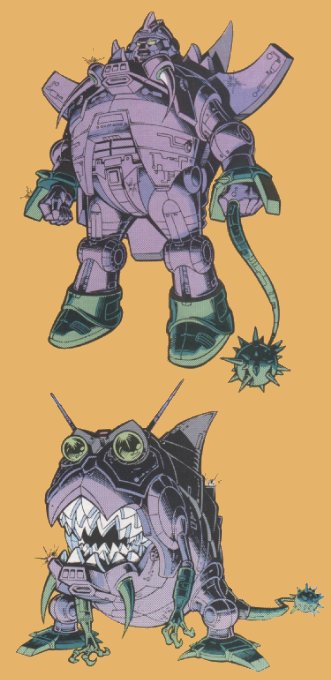 ALLEGIANCE: QUINTESSON
FUNCTION: EXECUTIONER
FIRST APPEARANCE: THE TRANSFORMERS: THE MOVIE # 2
"Everything is prey."
Profile: Massive, rotund, powerfully built and virtually brainless, Sharkticons are the perfect killing machines and thus the ideal enforcers to carry out the Quintessons' verdicts. The jaws and teeth of the Sharkticons are so powerful and strong that they can snap a six inch-thick titanium steel rod in .023 of a second. Their spiked tails can crush the heaviest armor plating. But the real reason for their invincibility lies in their overwhelming numbers. Like piranhas, Sharkticons attack their prey en masse and are totally oblivious to the casualties the target might inflict. They know how to do only one thing, and that is to destroy. They perform that function perfectly.
Weaknesses: Because they are so lacking in intelligence, they can suffer frightening losses before they even realize it. This is not a problem when they are facing one foe, but against a powerful force, even their destructive ability can be diminished.