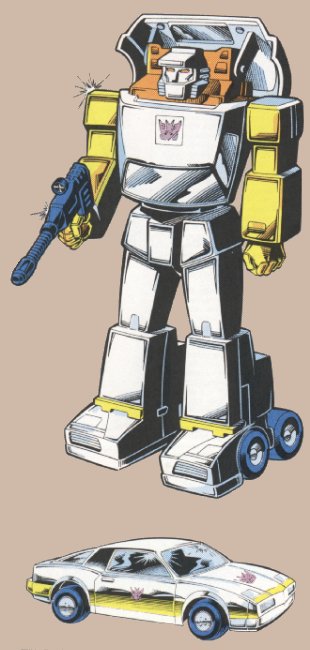 ALLEGIANCE: DECEPTICON
SUB-GROUP: BATTLECHARGER
FUNCTION: SHOCK TROOPER
FIRST APPEARANCE: TRANSFORMERS # 23
"The road is my playpen; cars are my toys!"
Profile: Cackling like a mechanical madman as he streaks down the road, Runamuck is a tumbling, twirling two-lane terror. He shows no regard for drivers sharing the highways with him. His freewheeling, frenzied approach invariably sends them scattering like leaves before a hurricane's winds. Spreading fear is his favorite pastime. But there's another, more sensitive side to Runamuck, although he expresses it in a most peculiar fashion: he's fascinated with Earth's junkyards. He can spend hours staring at one rusting wreck after another. In his own twisted way, Runamuck places the same value on these auto-graveyards as humans do art museums. His fellow Battlecharger, Runabout, attributes Runamuck's uncharacteristic soft spot to "one quick-change too many snapping some cerebro-circuits." Considering Runamuck's personality, that's a diagnosis hard to argue with.
Abilities: In car mode, Runamuck's maximum speed is 180 mph and his range is 600 miles. He transforms into his robot mode in .5 seconds. He wields a friction rifle, which shoots a beam that has the effect of dramatically increasing the kinetic energy of the molecules of any target it hits. Under these conditions, even the slightest movement of the target produces a tremendous increase in the friction between its molecules and air molecules or anything else it touches. Flammable objects burst into flame; some metals even melt. The effect lasts for five minutes.
Weaknesses: Runamuck's reckless ways often result in his transforming on ill-advised occasions. This leads to disabling injuries sometimes. He's also afraid of heights.