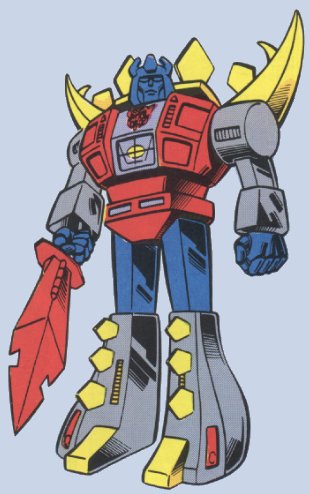 ALLEGIANCE: AUTOBOT
SUB-GROUP: DINOBOT
FUNCTION: DESERT WARRIOR
FIRST APPEARANCE: TRANSFORMERS # 4
"Only in war is there happiness."
Profile: An Autobot of few words and fewer opinions, Snarl grudgingly follows the orders of Dinobot leader Grimlock and leaves the thinking to others. He's generally unhappy and a loner, and his uncommunicative nature only adds to his feelings of isolation. Only the thrill of battle can elevate his spirits. In fact, few of his comrades experience the joyous heights that Snarl attains while locked in mortal combat. But for him war is an all too brief respite from the twin devils that haunt his miserable existence: the ungainly dinosaur form the Ark has bestowed upon him and the knowledge he may never see his beloved Cybertron again.
Abilities: His unique design makes Snarl particularly useful in sunny, arid environments. The large golden plates protruding from his spinal assembly are solar collectors. Although he can operate without sunlight, solar energy can increase his strength tenfold and his endurance to a virtually limitless degree. A swipe of his tail can shatter a 20-foot concrete cube. His heavily armored hide makes him resistant to most missile fire.
Weaknesses: Snarl's dependency on sunlight makes him extremely vulnerable to attack at night. Although he can use the same fuel the other Autobots use, he operates at only a fraction of his strength when he does. He is also very slow and his uncooperative behavior patterns sometimes hinder his effectiveness in dangerous situations.