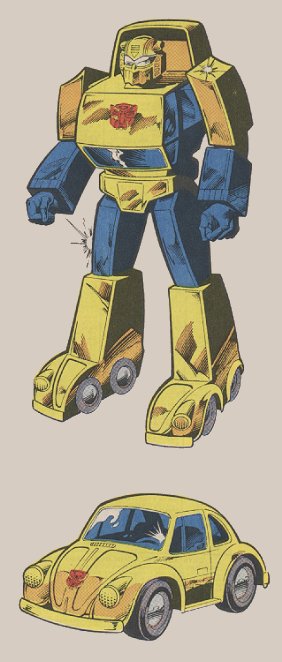 ALLEGIANCE: AUTOBOT
SUB-GROUP: THROTTLEBOT
FUNCTION: ESPIONAGE DIRECTOR
FIRST APPEARANCE: G.I. JOE AND THE TRANSFORMERS # 4 (as Goldbug), TRANSFORMERS # 1 (as Bumblebee)
"To know others you must first know yourself."
Profile: Although the Autobot Bumblebee's body was destroyed (in G.I. JOE AND THE TRANSFORMERS # 1), his mind was still intact. A new body, similar to the old one but improved, was built. But Bumblebee resisted assuming his old role again. His brush with death had changed him: he was no longer willing to play the part of the cute, wisecracking "little brother." He no longer enjoyed the other Autobots' often patronizing attitude toward him, nor did he accept it. He now had a more serious, even darker side. Some might say he matured. So, rejecting much of his old self, he also rejected his name - Bumblebee. He wanted a new identity to go along with his new body. He chose Goldbug. He's more assertive now, a change reflected in his promotion to the Autobots' Espionage Director. He's still a very engaging, affable fellow, but sometimes he can get downright gloomy when he's working, so much so that others are put off by him. He no longer acts the way he feels others would like him to. He is no longer interested in gaining their acceptance. He has come to realize that what others think about him is not nearly as important as what he thinks about himself. And lately, he generally feels very good about himself. And thankful that he has another chance.
Abilities: Goldbug is even more fuel-efficient now than he had been as Bumblebee. He gets up to 2½ times more use out of a unit of fuel than any other Autobot. He's faster and has greater range. He has extremely good vision. He's an excellent eavesdropper: he can hear a pin drop on the other side of a foot-thick concrete wall. He is adaptable to underwater, cold and hot environments. He has a peak efficiency operating range from -150 to +180 degrees Fahrenheit.
Weaknesses: Although stronger than he had been as Bumblebee, Goldbug is still one of the physically weakest of the Autobots.