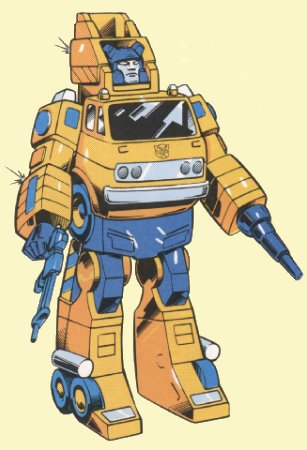 ALLEGIANCE: AUTOBOT
FUNCTION: ARCHITECT
FIRST APPEARANCE: TRANSFORMERS # 14
"Beauty is in everything except war."
Profile: Back on Cybertron, Grapple's building designs were considered works of art. He realizes that now, in an alien environment on Earth, his ideas are limited by the necessities of war. Nevertheless, he still takes enormous pride in what he does and strives for beauty and quality in all his creations. His problem is that he cares too much; he often succumbs to severe depression should one of his constructions be destroyed in the course of battle.
Abilities: In vehicular mode, Grapple can lift up to 35 tons and position massive objects with uncanny precision and grace. In robot mode, he uses a high temperature arc-welder rifle that shoots a stream of concentrated infrared energy as it slices through and/or fuses its targets. He can launch explosive rockets a distance of 4.5 miles from the hand socket in each of his wrists.
Weaknesses: Grapple's extreme artistic sensitivity often results in moodiness and depression, diminishing his value to the other Autobots. He doesn't adapt well to his vehicle mode which often results in mechanical breakdowns.