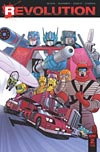 The
NTFA Store
is now taking pre-orders for the September 2016 comics.
The assortment this month features the start of
Revolution
and IDWs new shared universe, in which Transformers will now exist side-by-side with
G.I. Joe
,
M.A.S.K.
,
ROM
,
Micronauts
, and
Action Man
, opening the door for characters from one title to appear in another comic. For the time being it seems the crossing over is limited to "just" the main
Revolution
mini-series though, so if you want to read everything related to Transformers you shouldn't need to bother with any of the other
Revolution
tie-in titles … unless you want to, of course.
Here in September, the big event consists of the first two issues of the five-issue mini-series:
Revolution #1
and
Revolution #2
, three tie-ins:
M.A.S.K. Revolution
,
Micronauts Revolutions
, and
ROM Revolutions
(with no crossovers from other titles?), plus a 100-page special at double the regular price, called
Road to Revolution
. The latter reprints a few "key" issues of Transformers and G.I. Joe, and is probably not essential reading.
I have decided to leave out the issues of three pre-existing titles (
ROM #3
,
Micronauts #6
and
Action Man #4
), since even though the titles now become part of the shared universe, they don't appear to be important at the moment. Should anyone be interested in starting to buy them you can let me know – I can order them even if I haven't listed them on the order form. Once the regular M.A.S.K. title starts, I plan on adding it permanently to the order form, since I feel that M.A.S.K. is closer to Transformers and G.I. Joe than the other three titles in the shared universe are, and have a more natural connection.
Leaving the Revolution event behind, we do of course also have the regular ongoing Transformers titles:
Transformers #57
,
More Than Meets The Eye #57
, and
Till All Are One #4
. The first two are actually the last issues before the titles are starting over from issue #1 again. There is also a trade paperback in September,
More Than Meets The Eye, volume 10
.
And on the G.I. Joe side we have
G.I. Joe: A Real American Hero #232
, plus two different versions of the trade paperback
Street Fighter × G.I. Joe
.
The last day to
pre-order these comics and collections
from the NTFA Store is
Tuesday 26 July 2016
.