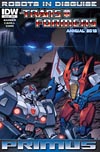 The
NTFA Store
is now accepting pre-orders for the September 2012 comics!
September is another month that is quite good for Transformers comic book fans, with six titles in total. Apart from the continuations of the three ongoing titles -
Regeneration One #83
,
More Than Meets The Eye #9
and
Transformers: Robots in Disguise #9
- there is also the double-sized
Robots in Disguise Annual
(which continues the story from last month's MTMTE Annual) plus two hardcovers: One is
Transformers: The IDW Collection, vol. 7
collects the
Ironhide
mini-series, last year's
Infestation: Transformers #1-2
, plus
Transformers Ongoing #7-18
. The other is
The Art of Fall of Cybertron
, which features artwork related to the upcoming
Fall of Cybertron
video game!
On the G.I. Joe side, we have the four ongoing comics -
G.I. Joe: A Real American Hero #182
,
G.I. Joe #17
,
Snake-Eyes & Storm Shadow #17
and
Cobra #17
- plus the crossover mini-series
Danger Girl/G.I. Joe #3
- but also
G.I. Joe: The Complete Collection, vol. 1
, the first volume in a new series of hardcovers collecting Marvel Comics' entire run of G.I. Joe: A Real American Hero and G.I. Joe: Special Missions, now in proper reading order.
The last day to
pre-order these comics and collections
is
Sunday 22 July 2012
.