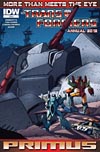 The
NTFA Store
is now accepting pre-orders for the August 2012 comics!
August promises to be a quite good month for Transformers comic book fans, with several titles of interest. Apart from the continuations of the three ongoing titles -
Regeneration One #82
,
More Than Meets The Eye #8
and
Transformers: Robots in Disguise #8
- there is also the first double-sized
More Than Meets The Eye Annual
(RID will also have an annual, the month after) plus a trade paperback
G.I. Joe/Transformers Crossover, vol. 1
, which collects the meetings between G.I. Joe/Cobra and Transformers that took place in the Marvel comics (both the mini-series from 1986-87 and the G.I. Joe issues from 1993). It's the first time in some twenty years that the mini-series has been collected, so it's a rarely seen story.
Also offered in August is the trade paperback
Transformers: Maximum Dinobots
from 2009. As the Dinobots appear again in RID and MTMTE, this serves as a useful reminder what the Dinos were up to the last time we saw them. And, of course, it also provide anyone who wasn't reading the comics back then with an opportunity to pick up this paperback.
Speaking about opportunities to pick things up, if you missed to pick up Regeneration One #80.5 and/or #81 you get another chance to do so provided you don't wait too long - I have a few unreserved copies of both left.
Over to the G.I. Joe line-up in August, which is quite rich as usual.
One item worthy of special mention is the
G.I. Joe Field Manual, volume 1
. Do you remember the two books "Transformers: The Ark Archives", which collected the black-and-white animation models used for the Transformers cartoons? This is the same thing, but for the G.I. Joe cartoon.
Then we have the four ongoing comics -
G.I. Joe: A Real American Hero #181
,
G.I. Joe #16
,
Snake-Eyes & Storm Shadow #16
and
Cobra #16
- plus the crossover mini-series
Danger Girl/G.I. Joe #2
, as well as the paperback
G.I. Joe: Cobra Command vol. 3
, which collects issues #12 of all three main ongoing series, plus the G.I. Joe: Cobra Annual. And of course, don't forget the "G.I. Joe/Transformers Crossover" collection mentioned higher up.
Finally, the August line-up also includes the trade paperback
Infestation 2, vol. 3
, which concludes IDW's intra-company crossover from earlier this year.
The last day to
pre-order these comics and collections
is
Friday 22 June 2012
.