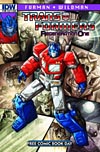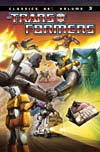 The
NTFA Store
is now accepting pre-orders for the June 2012 comics!
June is a decent month for Transformers comic book fans, with the continuation of the two ongoing series, with
More Than Meets The Eye #6
and
Transformers: Robots in Disguise #6
, plus two paperbacks:
More Than Meets The Eye, volume 1
and
Transformers Classics UK, volume 3
. The latter includes such classics as "Target: 2006", "Prey" (four of five parts published in Sweden in 1989; read the conclusion here) and "Fallen Angel".
Also, for the Nordic fans who haven't yet secured a copy of the
Free Comic Book Day
issue
Transformers: Regeneration One #80.5
, which starts off Simon Furman's and Andrew Wildman's continuation of the old Marvel Transformers series, I'm repeating last month's offer:
I have pre-ordered a limited quantity of this book, and am offering it to all Nordic customers
only
- you get the issue for free (limit one per customer), but I'm charging for the postage costs. Subscriptions to the upcoming series, which starts in July, are also available.
(Apologies to the non-Nordic fans for the regional restriction. The books aren't actually free for
retailers
to order, so I have to draw the line somewhere.)
On the G.I. Joe side the line-up is more extensive. Apart from the regular titles, which include
G.I. Joe: A Real American Hero #179
,
G.I. Joe #14
,
Snake-Eyes & Storm Shadow #14
and
Cobra #14
, there are three other items: the two paperbacks
G.I. Joe: Cobra Command, vol. 1
and
G.I. Joe: Roots of Retaliation
, plus the 72-page comic
G.I. Joe: A Real American Hero Treasury Edition
.
Also available in June is the trade paperback
Infestation 2, volume 1
(at this time we don't know if this volume incldes either the Transformers or the G.I. Joe stories).
The last day to
pre-order these comics and collections
is
Tuesday 24 April 2012
.