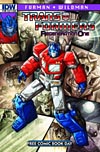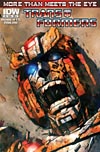 The
NTFA Store
is now accepting pre-orders for the May 2012 comics!
The wait is over!
After a 20-year hiatus, IDW returns to the original Transformers comic book universe, picking up right where 1991's Transformers #80 left off!
As part of this year's
Free Comic Book Day
event, IDW publishes Regeneration One #80.5, which bridges the gap between #80 and #81 (which will be released in July). Written by Simon Furman, with artwork by Andrew Wildman and Stephen Baskerville, you can trust that this continuation will be faithful to the original Marvel Transformers series.
I have pre-ordered a limited quantity, and am offering it to all Nordic customers
only
- you get the issue for free, but I'm charging for the postage costs (limit one per customer). Subscriptions to the upcoming series, which starts in July, are also available.
(Apologies to the non-Nordic fans for the regional restriction. The books aren't actually free for
retailers
to order, so I have to draw the line somewhere.)
Apart from Regeneration One #80.5 May is a quite average month, offering only the continuation of the many Transformers and G.I. Joe titles, plus two G.I. Joe paperbacks.
On the Transformers side we have
More Than Meets The Eye #5
and
Transformers: Robots in Disguise #5
, and on the G.I. Joe side the line-up consists of
G.I. Joe: A Real American Hero #178
,
G.I. Joe #13
,
Snake-Eyes & Storm Shadow #13
and
Cobra #13
, plus the two paperbacks
G.I. Joe Retaliation Movie Prequel
and
G.I. Joe: A Real American Hero, volume 4
.
The last day to
pre-order these comics and collections
is
Thursday 22 March 2012
.