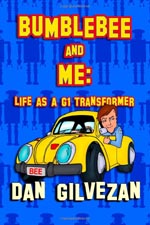 The Transformers voice actor
Dan Gilvezan
- the voice of
G1 Bumblebee
- has released a book, called "Bumblebee and me: My Life as a G1 Transformer"!
There have been several Transformers books available over the years, but unless we're mistaken this is the first one written by one of the voice actors, and that makes this book rather unique. It chronicles Dan Gilvezan's time working on the show back in the 1980s, and is filled with stories, remembrances, anecdotes, previously unpublished photographs, and profiles of the other cast members. Sounds quite intriguing!
It doesn't seem to be available at Amazon UK (yet?), but you can order it from
Amazon USA
!