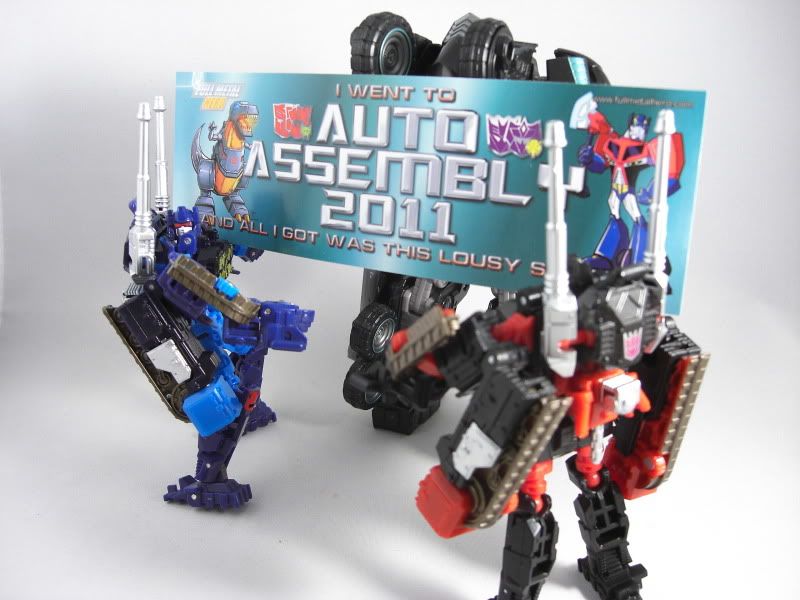 So, it's been a week since the convention took place. The bags have been unpacked, images have been gone through, impressions have gotten their time to sink in etc. So It's about time that I wrote up a report on my view on the event.

Friday
Travelling was easy this year as Hedemora is only about an hour away from Uppsala by train. So I left town at about 15:00 and was looking forward to a calm ride there... Which of course I didn't get. Seems like it's some SJ policy that every cart on the distance Borlänge - Stockholm has to be fitted with at least one unruly child with an irresponsible guardian.
Having gotten of the train, I just needed to find my way to the hotel. Stupid, as I am, I didn't print a map in advance as I have what's probably the worst sense of direction in the history of mankind. Instead I decided to trust the advancements in GPS technology and whipped out my phone. Normally I don't trust GPS equipment at all, but I figured that it couldn't be that bad in the middle of a town like Uppsala. Right...
Right?
The darned thing led me on a massive detour all around central town and even proposed that I'd either climb over or pass right through a wall. Seeing as I'm neither a ghost or a bird, I continued on and walked around the darned thing. Eventually finding my way to the hotel I met up with Gravebot in the lobby, who had been waiting there since early morning due to some schedule changes.
Having heard that BigPete was stuck in a traffic jam and knowing that DKConvoy was still a few hours away, we decided to call it a night. Of course just as I was about to drift off to sleep, I was struck with texts from both Pete and DKConvoy, requesting to know where I was. So I got dressed and headed out into the corridor, where I was almost instantly identified with a pointing finger and a "There he is!". Almost made me feel like a criminal who had just snatched a purse from an old lady. Haha!
So we headed down to the convention hall, looked over a few things, found an Inkku sitting on the floor amongst other stuff. We repeatedly tried to take off with his MP-04 which was meant for the fan sales table, but fearing the wrath of the almighty Swedish-metal-death-god, it was better to leave it be.

Later still, we met up with Colin (aka Specimen-17) from Xybertoys in the hotel bar and shared a few words and laughs. Discussing all things Sweden, transformers and god knows what.
Saturday
We went up quite early in the morning to be able to help with the preparations. Having started the day with a fantastic hotel breakfast, we went up to the halls and started digging into the Ikea detolf cabinets. I think Gravebot, DKConvoy and Inkku can agree with me when I say that we could probably assemble one of these with our eyes closed now.
After a slight delay we could finally throw open the doors and let in the attendees. It was truly a sight to behold! People just rushing in to the registration, immediately starting to browse the dealer tables and so on. Stuff went fast! It wasn't before long that most of the hot and desired items had been sold. Flexing the schedule a bit, people started to mingle with each other, discussing their purchases and overall TF preferences. Generally seeming to have a really great time.
I took a bit of time to check out the Transformers Animated display we had set up. Which was quite amazing, if I may say so myself. Quite a few items that I would love to get my hands on, but due to their scarcity and/or price, I probably never will. Oh well.

The first item on the agenda was a Q&A with Simon Furman which was really interesting. A few hints were dropped about The Transformers #81, but he couldn't say all that much about it. And just some really fun trivia about his various experiences as a writer.
One particularly amusing story was a really silly story they sent in to Hasbro on April 1st, featuring the Autobots chasing a mechanical sheep aboard the Arc. It was just a load of fun! Simon was a great guy as always and he knows how to keep things interesting.
Between the Q&A and the next event, which was the Saturday charity auction, I took the chance to talk a bit to Furman and ask him to sign one of the postcards from the goodie-bag. Being a bit unoriginal, I asked him to sign the Grimlock postcard, which turned out to be the best choice I could've made, as he scribbled on a little speechbubble stating "Me Grimlock hate chilli" on it. Haha!
So, onto the charity auction itself. Lots of interesting items present! I can't remember precisely what was available on which days, but the highlights included a whole lot of signed photographs, prints etc. I was lucky enough to walk away with a signed print from the 2007 movie by Peter Cullen and a signed photo by Neil Ross, and didn't even have to pay a lot at all for them. Yay for my wallet! But seeing as the proceeds went to charity, I wouldn't really have minded if they went for a bit more.

The competition for a few of the other items was far tougher. Especially when it came to some of the rarer signed prints, most of it coming from Pete. I don't even want to imagine how much he must've spent on that auction! Haha
Next was a well needed break. Since I hadn't eaten anything since breakfast early that morning, I didn't hesitate to rush with a few others to the nearby burger king. I'm usually not a big fan of the big franchise chains, but I guess that there are situations where anything tastes good!
Upon returning, we started preparing for the evening programme. The "Who said that" quiz had been moved to this slot, so I grabbed my computer and began to get the last minute preparations done, as well as do some volume testing.
Personally I feel that the quiz was quite the success. The goal was to both pay tribute to the amazing (and to some extent, the not quite so amazing) voice talents we've had throughout the years, as well as make an entertaining quiz both for the participants, as well as those who chose just to stand by and watch. If I return with the same quiz next year, I aim to get a more varied set of quotes as I didn't have time to go through quite as many shows as I'd want to this year.
But a good deal of people participated and if I remember correctly, it was quite even when Pete and I corrected the entries. Sadly, it didn't occur to me to write down who won what. If anyone remembers,please let me know

SUNDAY REPORT TO BE ADDED SOON