Now I'll have a go with
Animated Wreck-Gar
!
Alt mode:
My first reaction is that he looks fairly show accurate in garbage truck mode: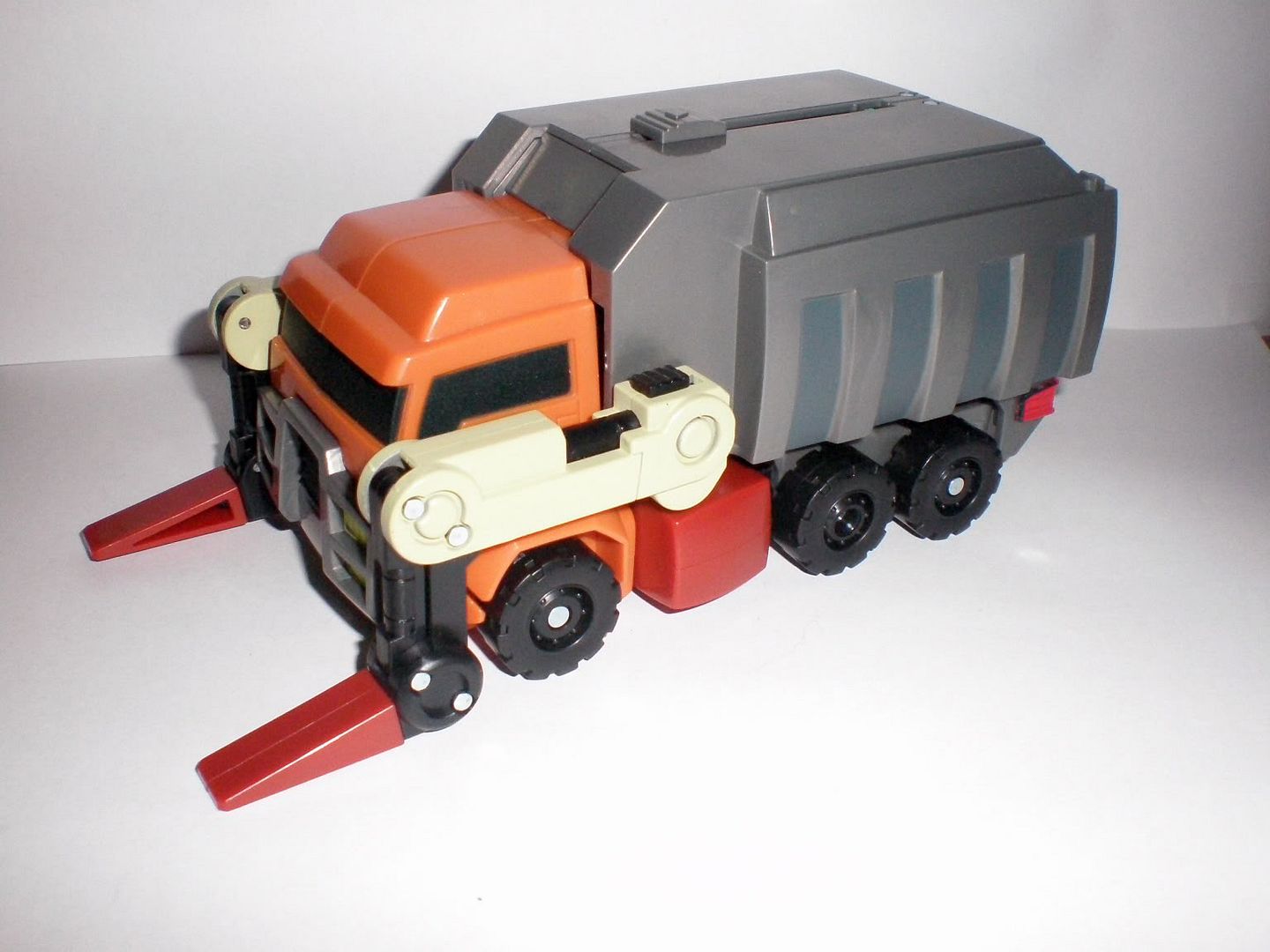 His only two gimmicks are visible here as well. The fork lifts can be moved up and down using the buttons on them, and he stores his weapons/cutters in the garbage container, where the sliding button will push them out. No springs or anything,
I'm kind of disappointed that there aren't more gimmicks than that. That amount and level of "gimmickery" is what I'd expect from a deluxe class toy; not from a voyager class one. Oh yeah, he can roll forward and backwards as well

I forgot to take a pic of the undercarriage, but his robothands and his head are clearly visible. Me no like kibble....
Score: 5 / 10
- Good looking but uninspired alt. mode. A bit bland and boring to be honest, not much detailing.
Robot mode:
Now he looks much better!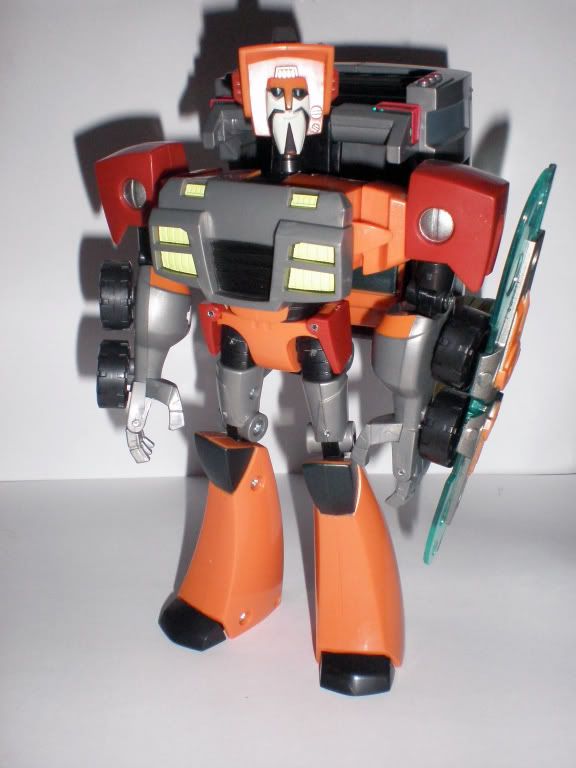 Or well, at least from the front.... Here's a side view: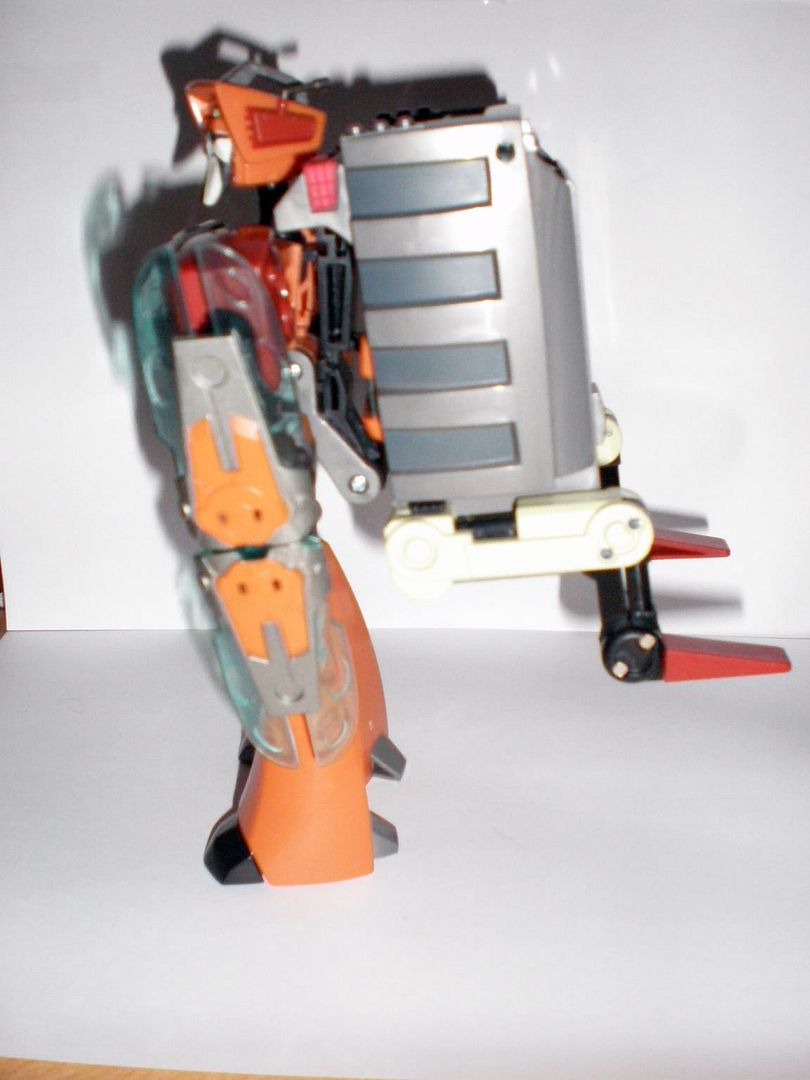 KIBBLE!!! SHELLFORMER!!!! GAH!

Wreck-Gar is truly a fantastic example of a shellformer. The truck cab is attached to the garbage container. You lift those up to reveal his torso, head, arms, and legs. Twist and turn a few times, attach the shell to his back, and the transformation is complete. There is no challenge at all in transforming this guy as everything is stored in the garbage container. The biggest challenge is to make him stand up straight without falling over. He's so back heavy, and the fork lifts point ut quite a bit, so the center of gravity shifts easily which makes Wreck-Gar topple over. Not good... No additional gimmicks except for that you can attack his cutters into one, larger blade. Yay. Articulation is decent in the arms and legs, but the head can only rotate. No ball joint here! His waist can rotate 360 degrees, but the grey plastic holding the shell/garbage container in place is in the way, so the waist can really only rotate 20 degrees or so in either direction... Time to modify another of my Animated toys I think

There's a bit more detailing in robot mode, like a facial expression, articulated hands (the thumbs can't be moved though), all the way down to his bent antenna on the side of his head. Nice touch, and it's made of a rubbery, soft plastic, so it won't snap or break

Nifty!
Score: 7 / 10
- More details, still no more gimmicks, lacking a bit in articulation, kibble-kibble-kibble...., back heavy, but still looking good somehow

Total score: 6 / 10