As a general fan of everything small when it comes to Transformers (micromasters, mini-cons, Legends, basics etc) I have been interested in the Activators sub-line to Transformers Animated. Judging by the initial photos we recieved most of them looked great, but especially one caught my eye. Beeing the TFA Starscream fanboy that I am I immediatly knew one thing! Activators Starscream would without doubt be mine!
For those not familiar with this new Activators concept, it is figures somewhere in between the size of Legends and Basic, all featuring what seems to be a decent amount of articulation and detail but most importantly....
SUPER FAST VEHICLE TO ROBOT CONVERSION!
The Activators all come packaged in robot-mode, so naturally let's start there. Starscream looks pretty much like a scaled down version of his Voyager counterpart, with some minor changes to the design. He no longer has the "gorilla arms" that plagued the proportions of the voyager (not that I had any problems with that) and the shoulderpads are bigger and pointier, though the most important change is the forearm mounted nullrays, as they are no longer just cannon-shaped blocks of plastic, but now are actually show-accurate, a very welcomed detail.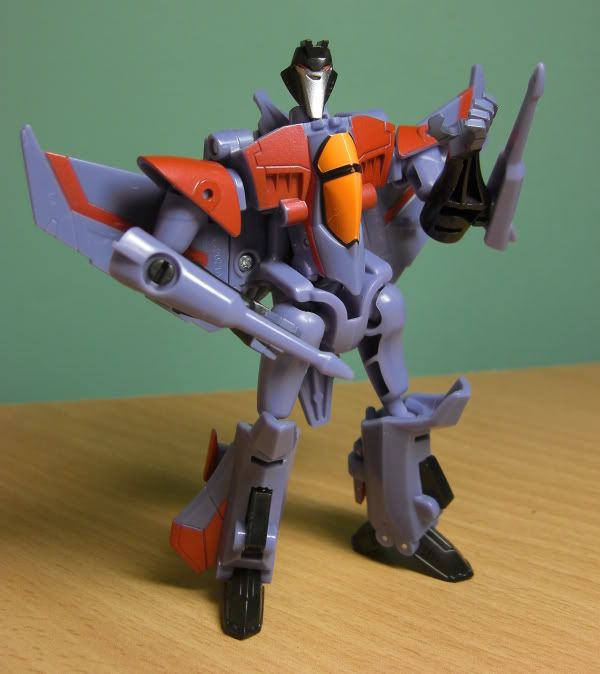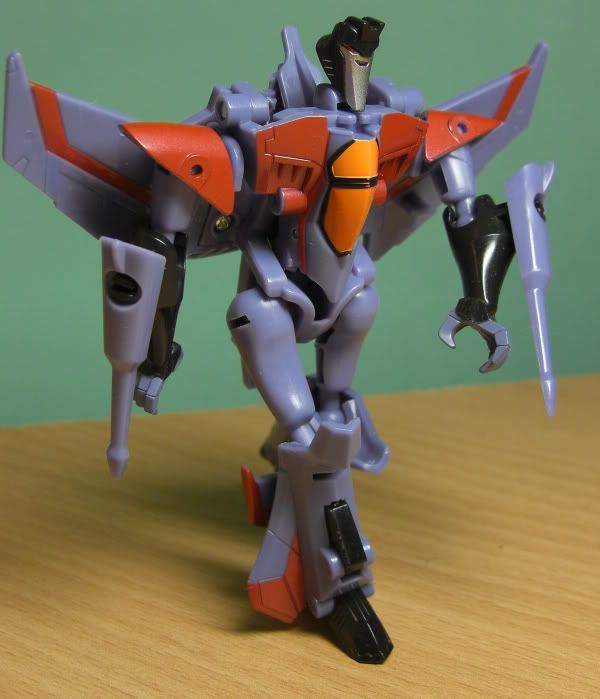 Starscream comes packed with articulation, sporting balljoints at the neck, shoulders, elbows, hips and knees, as well as adjustable feet, although that's a leftover from the transformation. But needless to say he has a great deal of potential when it comes to posing and you can get a great deal of personality out of this guy, especially with the aid of the headsculpt, which features a similair smirk as the bigger version, a smirk that just screams over-confidence...but then again, Screamer IS over-confident

This far, none of the activators seem to have any mentionable gimmicks in either mode, so Starscream play-value is pretty much limited to his articulation, which by far is fine by me. I would have hated to see such a fantastic little figure get ruined by some tacky gimmick.
Considdering all the paint-issues that seem to have plagued transformers recently, I am pleased to see that Activators Starscream seem to have slipped past that, with the minor exception being a slight scratch on the black outline of the cockpitt, but that may just be mine. But none of the apps have been sticky and they are very cleanly applied for such a small figure, no overspray to speak of anywhere!
Transforming Starscream is a gentle breeze in the wind. Simply fold down the shoulderpads and rotate the nullrays around, tilt his head backwards, close his feet and flip up the rear wings, then it's simply a matter of unfolding the torso. The nosecone will rotate out with the help of an intricate little gear system in the chest. and a series of cleverly positioned joints makes everything go into place very smoothly. Lastly, a small latch locks it together, and then the last thing left to do is to clip the thrusters into their final position. Easy as pie!
To transform him back, all you do is unclip the legs and press the red tab, after that, it's just some minor adjustments.
Direct link
Come to think of it, the whole thing kinda reminds me of the machine wars and early beastwars basics, though showing the advancements made over the years.
In vehicle-mode. Starscream looks pretty faithfull to his counterpart, except for the arms dangling under his wings...but that's besides the point. It holds together very good and there is no way the latch could unlock as it's a very tough spring that keeps things together very tight. there's nothing really that worth mentioning about it. Other then that they actually went all the way and added folding landing gear in the back. Such a great effort Hasbro! BRAVO!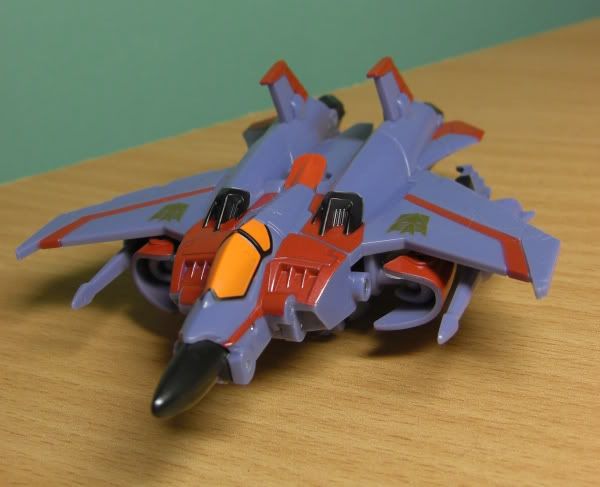 Before I conclude this review, there is one more thing that I can not let slip unmentioned. This is for all the macross (and Jet/Skyfire fans)
ZOMG GERWALK MODE!!!!
Yes! Activators Starscream can achieve what I believe to be the most perfect Gerwalk mode out of all the recent jet-formers. Which is kinda aproprite if you consider the stock transformation he used when transforming from vehicle mode to robot mode in Megatron Rising pt.1
To conclude this review. I will not bother with a grade scale here. But I will state this.
If you were to ask me if Activators Starscream is worth picking up. I would without a doubt answer that he is indeed very much worth picking up! It has just proved to be one of those toys that I can't keep my hands of. It has barely left my desk since the day I got it home and I constantly keep transforming and fidling with it, putting him in all kinds of crazy poses. And considdering that Barnens Hus are only charging 79.90 SEK a pop for these little things, you don't have much to loose. Go get them while they're
HOT!