I never thought I'd do a review of something I've regarded as a "kids toy" (well ok most TF's are kids toys). But I got hold of a Fast Action Battlers during one of my numerous trades.
I thought that since this toy isn't exactly a Movie line toy in my opinion (yes prejudice oh prejudice) I'd open it and play with it a bit.
So who am I reviewing? It's
Fast Action Battlers Brawl
!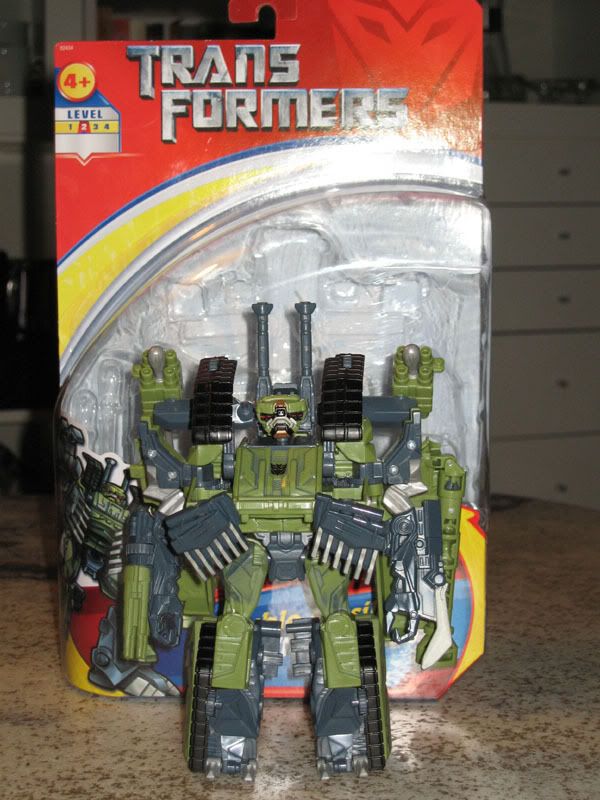 Since he's packed in his robot mode I thought I'd do an "opposite review" doing the robot mode first and alternate mode last.
Robot mode:
Now this really got my attention ! Brawl looks absolutely great in robot mode and he's actually very movie accurate which I didn't think it would. He's face is gorgeous looking with many details.
As with Deluxe Brawl this guy doesn't suffer from any arm problems at all, since his arms are placed inside the tank turret which are connected via a clever Automorph feature. When you swing Brawls chest up and down both arms follow so that they will make out the turret - albeit they don't lock into turret mode directly but it swings the arms onto the back. His head is placed on a spring loaded panel which you just push in when he's in tank mode - the head rotates 360'c and moves up and down.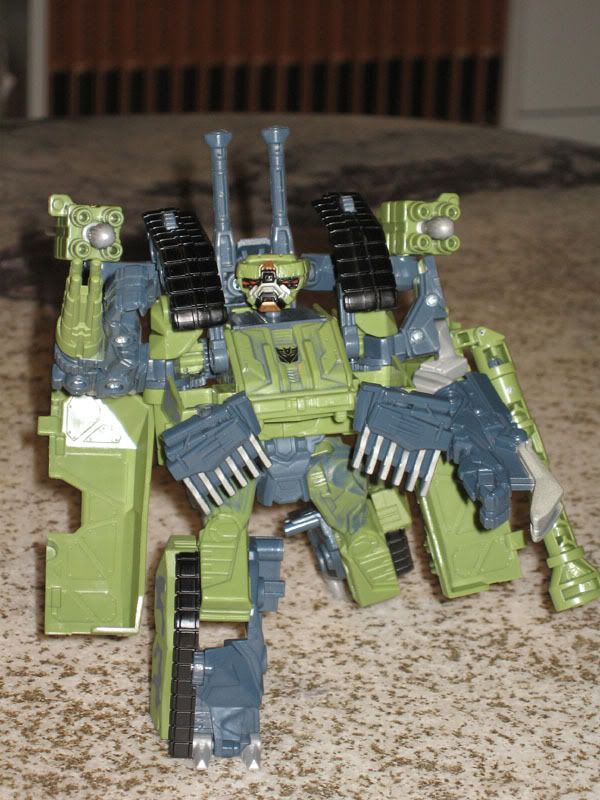 His arms can go up and down - but the thing is since his arms are attached in the turret shell he actually has two arm articulation points. You can take the arms out of the shell and move them up and down and then you can take the whole turret shell and move up and down as well. Sadly enough he hasn't elbow articulation.
His waist is also spring loaded. Although not described in the instructions I think this is for his slamming mode - think of the old He-man figures, you rotate the figure at the waist and let go and then you got a punch slamming action. That's the same with Brawl albeit it's only in one direction he can.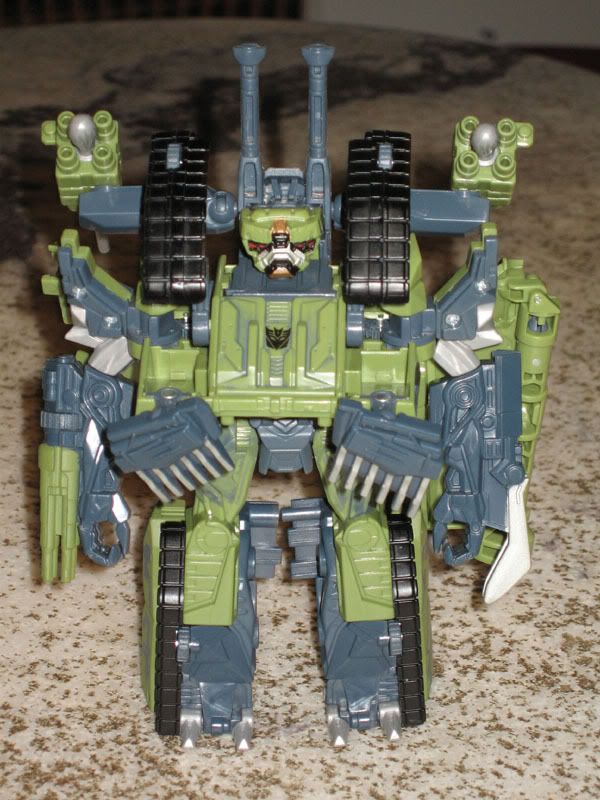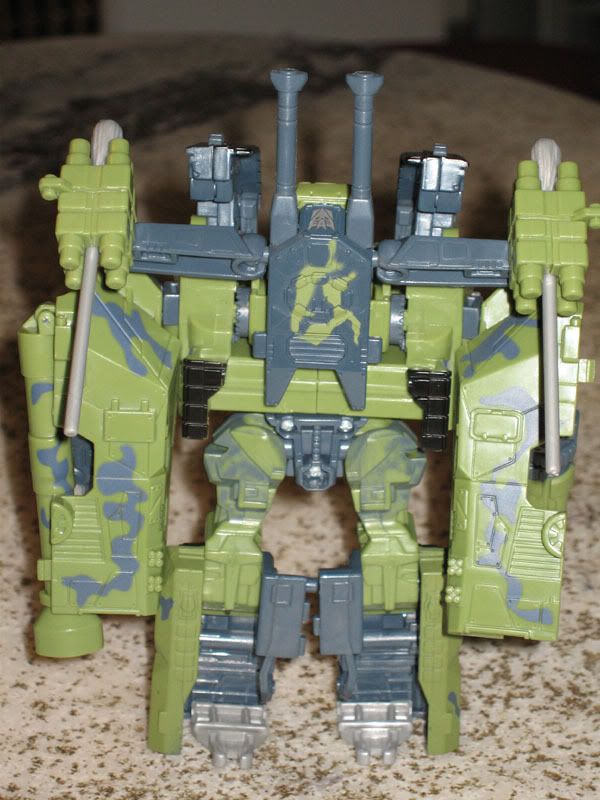 His "turret backpack" is completely detachable which is a nice feature actually. A bit lame and unnecessary gimmick are the missiles. They don't lock, so it's a pull-back-&-let-go spring loaded gimmick and they'll fly out for about 50cm or so. It's a shame they don't lock since they just fall out and you can then easily loose the missile - but then anyway, it's no near a disaster if you lose them because the gimmick is lame.
His legs move up and down and he bends at the knees allowing for cool poses.
He has a 4barrelled Gatling cannon on his right arm. There some kind of wheel on it but I don't know what is for and is doesn't really turn. On the left arm you have the two-bladed claw that is moulded in place, and you also have the cannon barrel sitting on the side like a fusion cannon. His hands are very nicely moulded even though they are static.
So all in all F.A.B Brawl has an amazingly good robot mode and some cool gimmicks (automorph). I didn't think I'd enjoy him as much as I do frankly.

Transformation:
Very easy indeed. From robot to tank mode you flip his legs around and then the most difficult part in the transformation happens. You have to align then swing the legs around and secure the legs on pegs on both sides to lock them into place - you do this one leg at a time, and then when it done you can connect the two pegs on the inner the legs. The instructions tell you otherwise but then it's impossible to do the other thing. Actually those two securing pegs are expendable since they are very annoying and the legs are tight enough to stay in place without problems. Afterwards you remove the "backpack" and then you push his chest placed tracks up a bit and you turn the mine-diggers around in the right position and then you place the arms inside the turret shells. Then you just swing down the tank barrel and secure both tank turret shell halves and the you but the "turret backpack" on top (this is easily transformed, no need to describe that since it obvious) - and then you're done.
His transformation:
http://i95.photobucket.com/albums/l131/Gripen90/IMG_1486.jpg
http://i95.photobucket.com/albums/l131/Gripen90/IMG_1485.jpg
http://i95.photobucket.com/albums/l131/Gripen90/IMG_1484.jpg
Tank mode:
A heavily modified M1A2 Abrams tank. The tank mode is extremely nice and detailed.. There's the twin upper turret guns + two missile pods with 4 TOW-tubes and then there's the main gun. Of course the missile gimmick works in this mode too but it's rather lame.
The mine-sweepers at the front look great and basically give him a meaner appearance.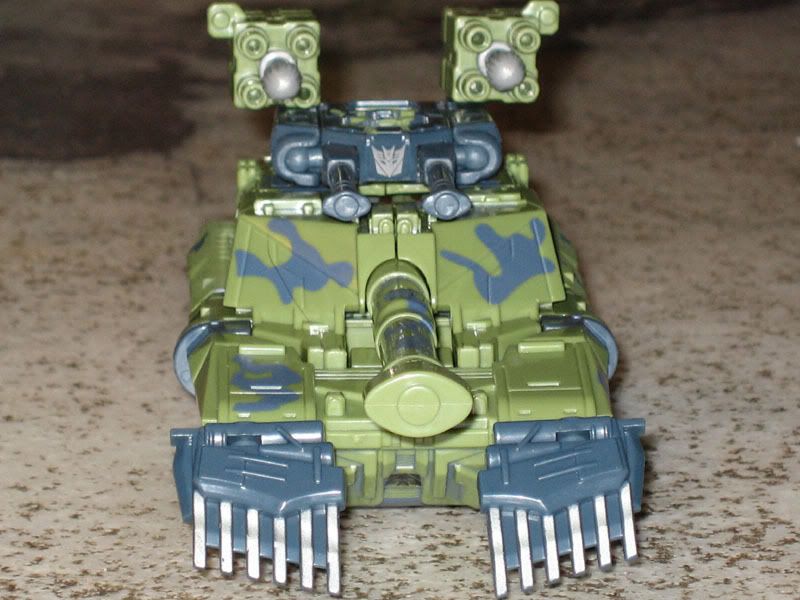 When you turn him upside down you actually don't see any robot parts giving him away other than his head/face, but you can turn it around so it's less obvious if you want.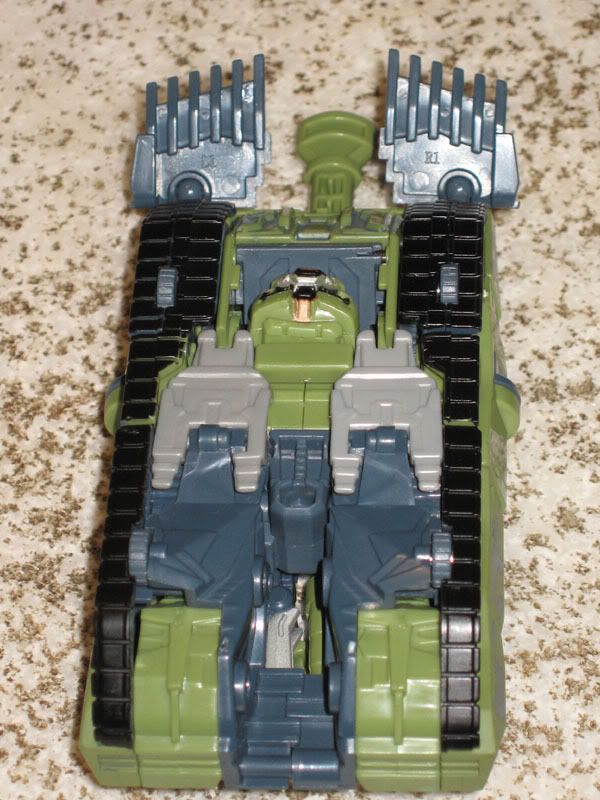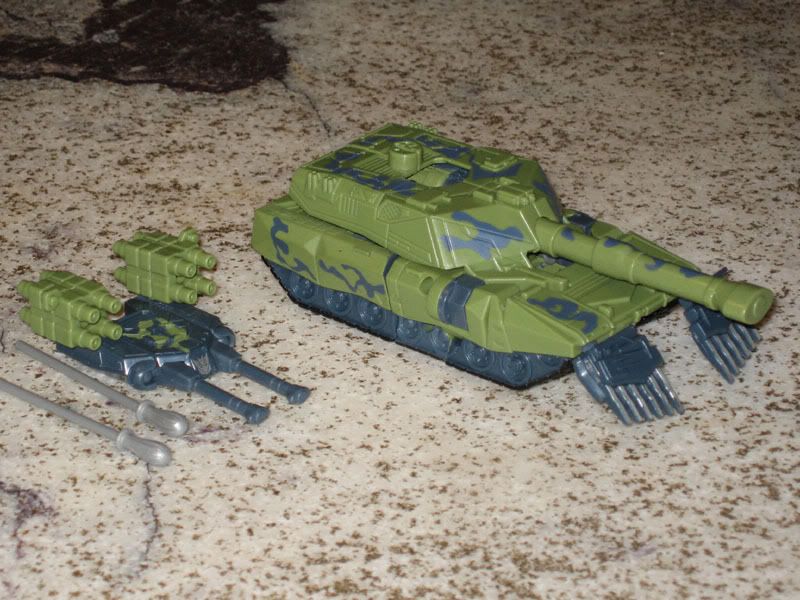 The tank rolls on four small plastic wheels.
Where as you can rotate the upper turret, the main turret doesn't rotate which is a shame, but then again not, when you consider it's his arms and it's way better made than the troublesome Deluxe version - actually his mode has a lot in common with Generation 2 Megatrons tank mode.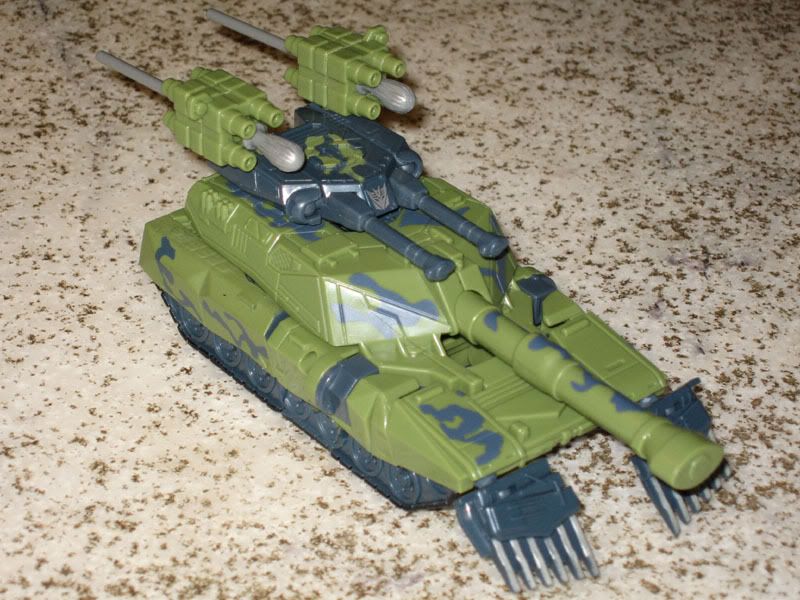 Verdict:
So...I must give in to my prejudice and conclude that this isn't a simplified kids toy at all ! I simply love it - and I really mean it. I've been playing with him for about 2˝hrs and he's just a lot of fun - both in robot and tank mode, but also transforming forth and back, It's a very sturdy toys and you don't worry about breaking it.
The only down side is his lame missile gimmick which either should have been lockable or never made at all.
+ Great looking robot mode, really detailed.
+ Nice Automorph function
+ Great face/head sculpt that really looks like his movie counterpart
+ Lots of weaponry in robot and tank mode
+ Punch/slamming function
+ Nice amount of articulation for a F.A.B figure
+ Sturdy non-breakable feeling of the toy.
+/- Missile gimmck.- fun and annoying at the same time. You can't store the missiles, so you lose them easily.
- Could have poseable elbows.
Overall 9.5/10
If you don't like Deluxe Brawl or is concerned about his arm problems, get F.A.B Brawl he easily makes up for that and could without problem have been labelled a Deluxe figure.