So, the NTFA-meeting is been and done. Me and Sonja really enjoyed it, and hopefully everyone attended has the same feelings. You guys rock! (Yeah rock, not "sock"

)
Because of the many pictures, I'll divide this to two posts. Some of the pictures are taken by Osku, the others by Sonja.
PART I
Lars arrived to Turku terminal Saturday evening at 19:50, and after a small "scenic route" we arrived to our residence at about 21.30.
Lars had slept most of the ship trip (say THAT quickly three times in a row

), so none of us was tired, and we had loads of interesting conversations in- and outside the world of TFs.
There was no real
repertuar
there, just nice comfy being, having something little to eat and just talking, so let's move on to Sunday.
Everyone agreed that the pics are freely to be shown, so here we go:
We met at Turku Cathedral as agreed. Sonja's (Blackarachnia's) working place, The Pit, was right alongside the church, so we went to see that first, and Sonja told people this and that about archaeology and Turku history.
After that we went eating to a nice new place that's quite near our place, called Pronto. It was a nice surprise: The food was actually quite good, and price/amount of food-comparison was
very
satisfying. I seem to have forgotten to take those pics along, so we have to wait for Osku's and Inkku's ones.
On our place the first thing was business. Lotsof trading, buying and selling, also bit outside TFs, but mostly the actual items. Especially Osku's stock of extra figures vanished to greedy new owners, me among the others. I bought BM big Jetstorm, Rattrap and Strika plus BW Sky Shadow.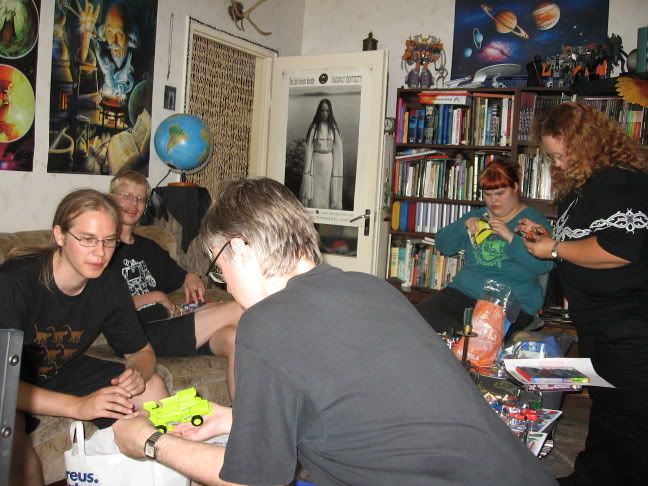 Lars and Osku looking at some G2 figure, Inkku and Elisa (Midnight Express) checking out other merchandise, Palaste being in the Twilight Zone as usual...

Then it was cartoon time. We watched the More Than Meets The Eye 1-3, with swedish dub and finnish subtitles, and as Elisa alreay pointed out in the other thread, I'll quote Galvatron: "This is bad comedy"... The swedish dub was actually mostly quite ok, except for example that Soundwave sounded really depressed, like Marvin the Paranoid robot from the Hitchhiker's Guide to Galaxy...
People watching the MTMTE. The expressions of the audience tell it all...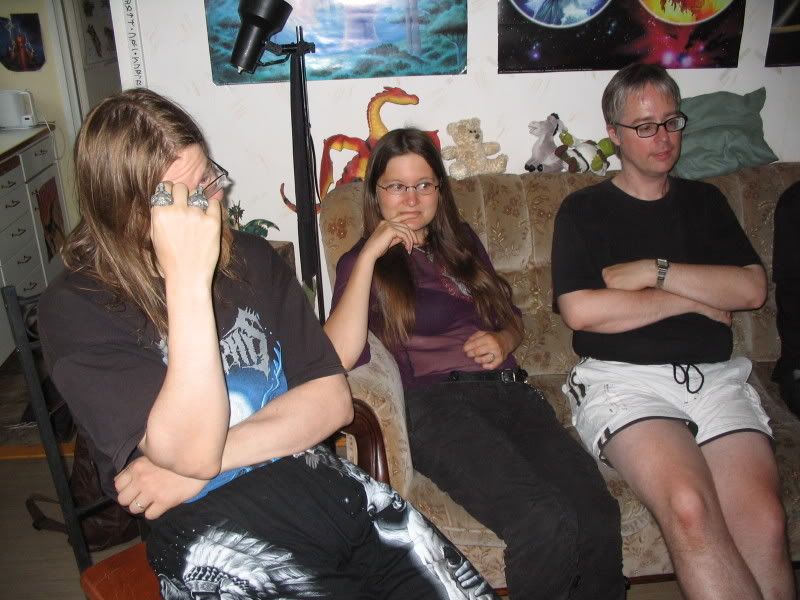 ...for example, the cartoon seemed to be a bit too exciting for Sonja...

Some time later we took probably the most hilarious and peculiar quiz about TFs ever, made by Osku "The Tormentor" Jaakkola. ("That's not fair! Sonja, where's my sword??")
The questions were quite ingenious and evil. I bet Inkku's Unicron might have enjoyed them...
Then it was time for another great program number. Osku had brought these weird robots that transformed into letters,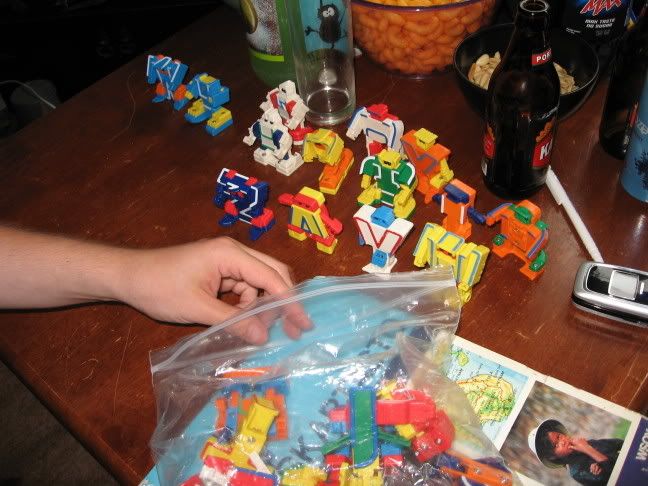 , and everyone had to sit side by side with their opponents, pick a robot that one presumed changed into desired letter, and out of them create a name of a Transformer that was selected in advance. Here go
Sonja vs Elisa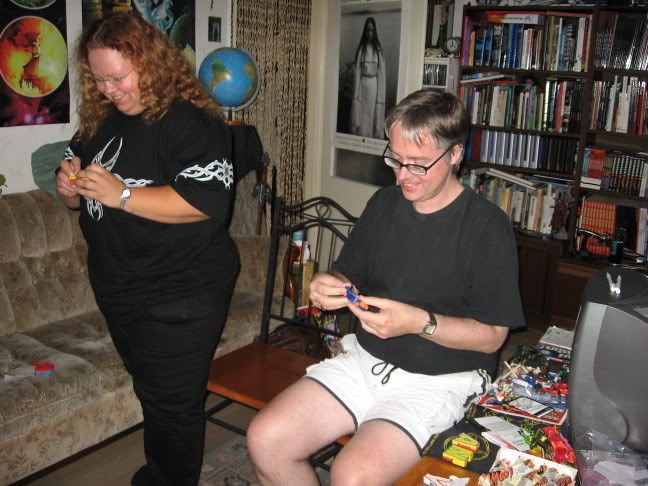 Lars vs Inkku
Me vs Palaste.
The competition was quite hilarious, more pics of it probably later by others.

Osku couldn't participate, since he was the referee...
End of part one. A bit more disturbing pictures coming in about fifteen minutes...